ECOFS - Breaking News
2017 FENG SHUI STUDY TOUR OF CHINA
Please click onto the image below to download a full brochure on our 2017 tour. We hope you can join us!
"Good Luck Comes when the Elements are Together"
Introduction to the Core Principles of Feng Shui
Two days introduction study course held in London
Feng Shui Society Accredited Foundation Course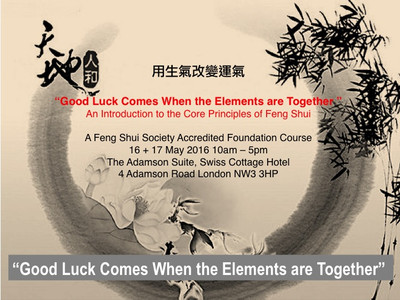 (Please click on image above for full details)
This comprehensive and intensive Feng Shui Society Approved foundation course is designed for participants with little or no prior knowledge of Feng Shui. It aims to provide students with a sound introduction to develop their understanding and appreciation of the vast subject of traditional Feng Shui.
The teaching methods are a mix of theories and practical applications. We will go into the core principles to find the answers to encourage you to think deeper about your living environment and how it can affect your own outcomes. By the end of the two days you will be able to make some basic changes in your home and in your life. An attendance award is given upon completion of the course. Students' learning will be supported with generous detailed course notes.
Howard Choy is bi-lingual and China-trained in traditional Feng Shui, in practice for over thirty-five years. He will give you a genuine understanding of the traditional theories and contemporary practice of Feng Shui, using materials drawn from recognized Chinese Feng Shui classics. Then you will start to understand what Feng Shui really is about, why it can be so powerful and how to begin to use it yourself.
Graduate students who wish to pursue the subject further will have gained the foundation knowledge required to join our ECOFS two year practitioner level training, which is fully accredited by the Feng Shui Society.
To book your course place, or make further enquiries, and register interest:
Sylvia Bennett (London Organizer)
sylvia@fengshui-living.com
Latest News
ECOFS Professional Practitioners Training Course


Certified by the UK and European Feng Shui Society
Starting February 2017 in London.
Please click on the ECOFS logo here for full course content information.
Our earlybird discount offer is now extended to
30 September 2016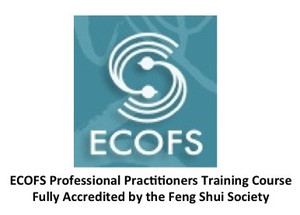 The ECOFS two-years fully accredited professional training course has 7 modules of 4 -5 days
each, making a total of 30 teaching days with 210 hours of face-to-face theory and practical
teaching including real case studies and on-site consulting.

This outstanding high quality course has many unique features. its content aims to be the most
comprehensive available anywhere in Europe. Personal mentoring and support is offered
throughout the course. After graduation you will have two further years mentoring available
from us free of charge, to ensure you have the essential support needed to embark on a
successful feng shui consulting career.

You will learn from Howard Choy direct. He is a highly experienced bi-lingual China-trained
teacher, exceptionally well qualified to teach the professional application of feng shui. Howard is
also a practicing feng shui consultant and architect working internationally at the leading edge of
the feng shui profession.

Please contact us if you are seriously interested in becoming a professional feng shui consultant,
recognised by the UK and European Feng Shui Society. Qualified Feng Shui consultants are also
welcome to apply to study individual modules within the course, subject to place availability.

For enrolment, expression of interest and more information please contact:
Sylvia Bennett: sylvia@fengshui-living.com
London Courses Organiser
phone 020 7419 7828 or 07779 139187
Howard Choy: fengshuiarchitect@hotmail.com
ECOFS Principal and Teacher
Welcome to our Newly Renovated ar-qi-tektur Office and
European College of Feng Shui (ECOFS) School
Langhansstrasse 66, 13187 Berlin Germany.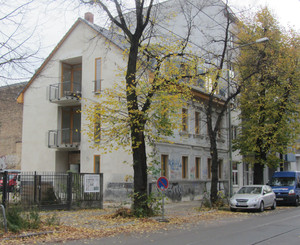 ---
International Symposium Kan Yu (Feng Shui) and Architecture - a Great Success
The 5th international gathering was held at Humboldt University (HU) Berlin from 09-11 November 2010, hosted by Seminar of Sinology and supported by the Gerda Henkel Stiftung. 15 specialists from 9 countries came together to discuss the influence of Kanyu Feng Shui on the modern built environment.
In his opening speech, Prof. Dr. Florian C Reiter of HU Berlin considered the probability of using Kanyu (a more traditional term for Fengshui) in some of the new developments in Berlin and came to the conclusion that if Fengshui were involved, then there would be less eye-sores, such as the Sony Centre.
Prof. Ole Bruun from Denmark remarked in his paper that the popularization of Fengshui was partly due to the search for a new spirituality to replace the old one in the West. With the globalization of Fengshui, it will become once again a living tradition and what it will become depends on how we will present and make use of Fengshui in the future. He also mentioned the "Pizza" effect, where the inter-change of information between the Chinese and their western counterparts will eventually modify the more traditional aspects of Feng Shui.
"But we must study Kaqnyu Fengshui more seriously and get rid of the less useful and retain the more constructive components for modern applications," said Prof. Wang Yude from Cntral China Normal University, whose historical research institute is famous for their research into the Mysterious Cultures of China. "Better Fengshui education is definitely needed," echoed the same sentiment from Dr. Michael Paton from Australia's Sydney University.
"The trend in China now is to study Feng Shui from an architectural and cultural point of view, less emphasis is placing on the esoteric side of Feng Shui and more on the practical side of how it can improve China's environment and showcase Chinese culture," said Prof. Wei Dong from USA, who hopes the next international conference will be held in Taizhou China (3 hours from Shanghai), the home town of Hu Jin-Tao, the Premier of China, and the site of the first Fengshui cultural museum in China.
At the end of the 3 days, most experts do come to the conclusion that with careful study and research Kanyu Fengshui can make a positive contribution to the modern built environment and our relationship to Nature, in terms of conservation, ecology and sustainability. "Kanyu Fengshui can be a very useful and powerful tool, instead of seeing it as a 2,000 years old fad from China," said the expert scholars.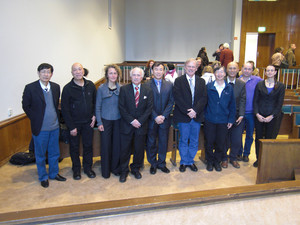 Download Deutsch artikel HIER
Fengshui Chinareise September 2010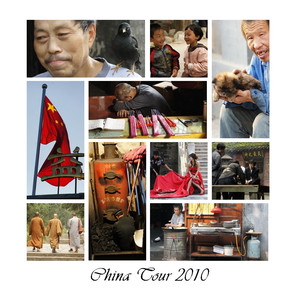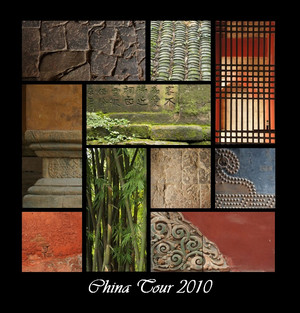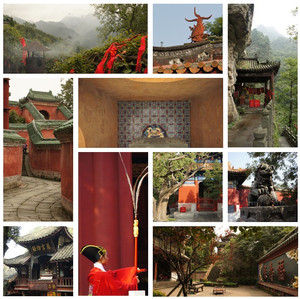 The China Tour 2010 has been most enjoyable and you can see some great images put together by Michael Rapp, together with
some more great photos of the past tours in the Gallery section.
The next tour will take place in October 2015 and you can download a flyer in pdf format by clicking HERE: