Courses and Workshops
Our Approach
In European College of Feng Shui (ECOFS), we aim to produce students and practitioners who are not only practically efficient but also classically correct. By being classically correct, we mean the sources of our teaching materials all came from the Chinese Feng Shui classics and we use them as our starting point to explore the theories and the practice of Feng Shui.
We have a healthy respect for the written words of the past but we do not follow the classics blindly, for as Zhuangzi said it once, reading the books of sages who are no longer with us is like looking at the drudges of dead men. We try to make the classical text come alive and use the past to serve the present instead.
Being Feng Shui architects, we have a spatial design orientated approach to Feng Shui and we teach in a practical, efficient and down-to-earth manner with the learning of the classical theories always supported by case studies and practical on-site applications in a modern environment.
We prefer face-to-face teaching in an intimate atmosphere, where the individual progress of a student is of primary concern to us. We truly believe that the future of Feng Shui as a profession depends on the quality of the students a teaching institution like ours can produce. Therefore we will try our hardest to bring out the best qualities in each one of the students who will attend our courses.
This we promise, and will deliver.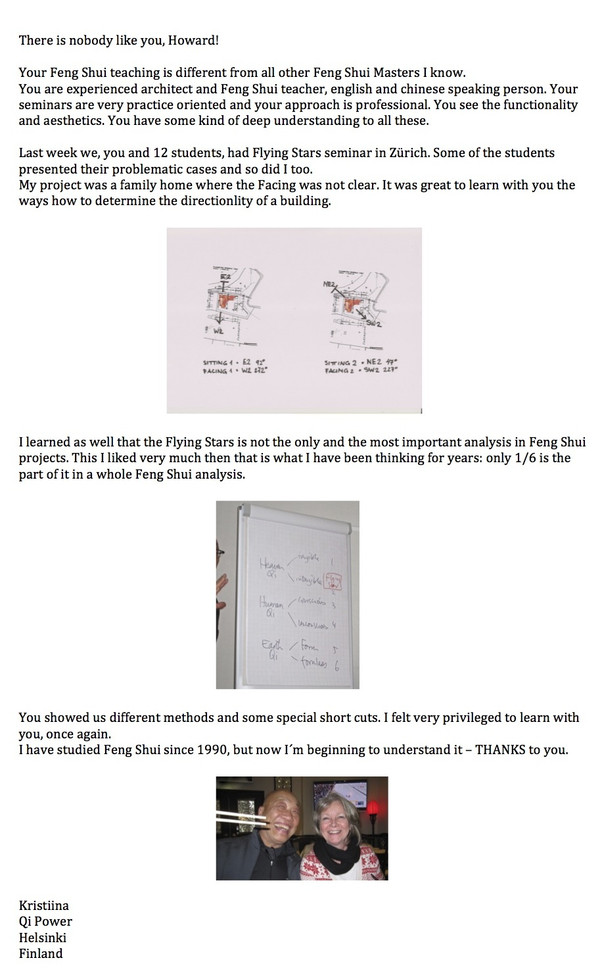 From Sue to Howard in a recent email - January 2010 ("If you like, you can add this:")
I'm not one of those people who loves to praise and hero-worship teachers at all! But credit where its due, and I have to say that I am always so impressed at your ability to read over a case study and within minutes see exactly what needs to be done, when I may have been studying the case for days! I am also touched that you somehow find time in your busy schedule to offer your advice, and the patience to shed some light on the various aspects of Feng Shui when I get stuck or confused. This is a great support to me, especially since I work professionally, so I need to get it right, but do not have a mentor or fellow student locally to discuss things with. I am extremely grateful, and eager to study more with you when I can, to soak up some of your profound Feng Shui knowledge and experience.