Courses and Workshops
Poland
Ekstrawagancja Wędrujących Gwiazd
7-9 marca 2013, Kraków

Wędrujące Gwiazdy to jedna z najbardziej popularnych Szkół Kompasu Feng 
Shui studiowanych na Zachodzie. Istnieje wiele niejasności i 
niezrozumienia tego tematu, prowadzących do problemów użytkowania 
systemu Wędrujących Gwiazd, ponieważ wielu studentów uczyło się tego 
tematu z książek i za pośrednictwem systemu e-learning i brak im 
praktycznej wiedzy, know-how jak stosować techniki, których nauczyli się 
z materiałów pisanych.

Podczas 3-dniowego kursu omówimy wybrane studia przypadków przekazane 
nam przez starych Mistrzów oraz omówimy rozdziały z klasyki Wędrujących 
Gwiazd - "Shen Shi Xuan Kong Xue" (Studia Xuan Kong [Wędrujących Gwiazd] 
Mistrza Shen'a), aby zyskać wyższy poziom wiedzy i pełniejsze 
zrozumienie Feng Shui Wędrujących Gwiazd.

W trakcie kursu omówimy szczegółowo Wykresy Gwiazd dla Okresów 6, 7 i 8, 
a także omówimy potencjalny wpływ Wykresów Okresu 9, dzięki czemu 
Uczestnicy zyskają szczegółową znajomość interpretacji wykresów, z 
którymi w obecnych czasach najczęściej mamy do czynienia.

Podczas 3-dniowego warsztatu wykonamy także praktyczne przykłady analiz 
Wędrujących Gwiazd (zachęcamy Uczestników do przygotowania własnych 
przykładów, które w miarę czasu wspólnie przeanalizujemy i omówimy).
Zapraszamy Studentów z różnych Szkół na całym świecie. Kraków to bardzo 
przyjazne miasto do odwiedzenia i studiowania. Ma jeden z 
najwspanialszych rynków miejskich w Europie.

Kurs prowadzony będzie w języku angielskim z równoczesnym tłumaczeniem 
na język Polski.

Termin: 7-9.03.2013
Szczegółowe informacje i zapisy na zajęcia: biuro@fengshui.biz.pl , tel. 
+48 12 632 71 62 , www.fengshui.biz.pl
Zapraszamy!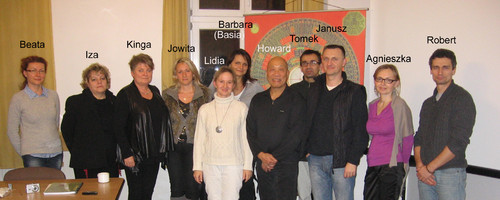 Students from the Professional Practitioners Course - Flying Star Module, 2012
To down the final lecture in our Polish summer camp at Lazy (Baltic Sea) entitled, "The Inner Workings of Classical Feng Shui - What is Classical Feng Shui and how it works in practice", please click on the picture of the camp program below: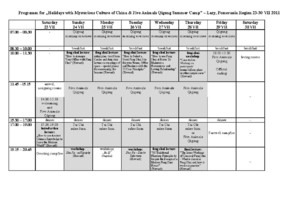 Poland Teaching Schedule 2011
MAY
May 20-21 (Fri-Sat): "Yin Zhai Feng Shui - on the history and practice of Sheng Ji" - classical subject of gravesites feng shui
May 20 (Fri) evening Feng Shui lecture: "Feng Shui - what it is and how it works in practice"
May 22-24 (Sun-Tue): "Xuan Kong Day Selection (2 days) and advanced workshop on Fei Xing (1-day, case studies)"

JUNE
June 15-18 (Wed-Sat): "Professional Skills for Feng Shui Consultants, Ethics, Practices plus Advanced Flying Stars" (Unit 5 of Professional Practitioners Course Master Classes)

JULY
June 16-21 (Sat-Thu) Five Animals Qigong / Taiji Summer Camp
June 21-26 (Thu-Tue) Feng Shui/Calligraphy/Qigong Summer Camp: "Holidays with Mysterious Culture of China"

OCTOBER
October 26-29 (Wed-Sat): Form School - beginning of Professional Practitioners Course Master Classes for new group

DECEMBER
December 5 (Mon): Professional Practitioners Course Feng Shui Exam
December 6-10 (Tue-Sat): Bazhai/Feixing Compass ring by ring with Dai Gua elements plus San He introduction (3 Water Methods)
For further details, please contact:
mgr Lidia Szarek
Feng Shui - Space Psychology
12/16 Chopina Street
30-047 Kraków
Poland
http://www.fengshui.biz.pl/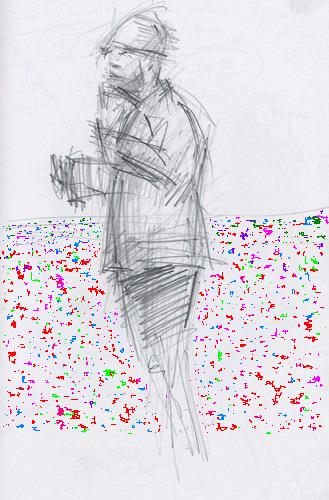 Poland Teaching Schedule 2010
Session 1:
March 3-7 (5 days).
3-5 Three-days workshop: Feixing practices and advanced aspects for students who have completed the PPC and for those who have not attended Unit 4 or 5 yet.
March 5th: Qigong evening class (1,5 hr)
6-7 Two-day workshop: Form School p. 2 – Form School Classics (to complete Form School part) with elements of Sheng Ji (full Yin Zhai workshop to be taught in 2011)
We have to solve Qigong with Andrzej Szuszkiewicz (AS): he prefers weekends, so maybe to use Saturday and Sunday (6 nad 7th) nights: we will run FS workshop from 9 a.m. to 5 p.m. and qigong could be from 6 p.m. to 9 p.m. which gives 6 hours in total (time AS asked for).
Beginning from next workshop (May) Sundays are free so there will not be problem with AS qigong classes.
Session 2:
May 19-22 (4 days). Unit 3 PPC - Bazhai Pai
May 22nd: Qigong evening class (1,5 hr)
Sunday May 23, Qigong with AS.
Session 3:
July 12 organizers arrival, July 13-23 Summer Camp (10 overnights), July 24 departure.
July 13-18 (5 days) Qigong camp, invite all AS students to attend (part of the 5 sessions in 2010 to cover the full Five Animal Frolic set), as well as students from the Krakow evening classes.
July 18-23 (5 days) FS and Mysterious Culture of China.
Session 4:
October 7-9 (3 days): FS Luopan – ring by ring, theory, techniques, application
October 9th: Qigong evening class (1,5 hr)
Sunday October 10, Qigong with AS
Session 5:
November 24-27 (4 days): Unit 4 PPC Fei Xing
November 27th: Qigong evening class (1,5 hr)
Sunday November 28, Qigong with AS
China Tour September 17 – October 01, 2010.
Berlin Conference 22-24 Oct
Taiji Camp in Herzfelde with Piotr Ziemba: July 25-31, 2010.
For further details, please contact:
mgr Lidia Szarek
Feng Shui - Space Psychology
12/16 Chopina Street
30-047 Kraków
Poland
http://www.fengshui.biz.pl/